The inexorable rise in broadband speeds has provided fresh impetus for a broad range of streaming digital players. With an ever-expanding array of content from the likes of the BBC, LOVEFiLM and Netflix, to name but three, manufacturers of under-the-TV boxes have been scrambling to get a healthy share of this burgeoning market. TV manufacturers, too, have grabbed the opportunity by releasing mid-range LCD and plasma sets imbued with 'Smart' credentials, where they're able to act as receivers for Internet-delivered programming.
Makes TVs smarter
Western Digital has been no slouch in getting to market boxes that offer 'the best of the Internet on your HDTV.' Now in its third incarnation, the diminutive WD TV Live box, priced £75, provides support for a wide variety of media files, be they located on a network or local USB stick, and, of course, as a receiver for Internet programming. It connects up to any modern television by HDMI and is able to play all manner of high-definition content.
The box measures 125mm x 100mm x 30mm (WxDxH), making it smaller than three stacked CD cases. Build quality is robust, while curved edges with otherwise clean lines give it an uncluttered look. On the front there's an infrared sensor, power light (which can be turned off) and USB 2.0 port, of which there's another on the back, along with RCA-composite, full-size HDMI, Ethernet, and optical S/PDIF-out. Perhaps an SD card slot wouldn't go amiss?
WD's Gen 3 model features built-in 802.11n WiFi, which is handy if, like most, you'll be streaming content via a wireless router. Inside, a fan-less Sigma SMP8670AD-CBE3 chip's supported by 512MB DDR2 memory. The operating system, meanwhile, is stored on a 2GB NAND Flash chip. Perhaps an oversight on WD's part, or simply a cost-cutting measure, there's no supplied HDMI cable in the box.

WD's remote is solid and intuitive to use, giving good feedback on key-presses, while dedicated setup and home buttons are sensible inclusions. Solid ergonomics mean it also sits nicely in either hand.
Fully-functional player
Sigma's processor is able to handle eclectic content, from MPEG1 to H.264, up to a 1080p resolution. Being in competition with Apple's TV, understand that it won't play protected iTunes content or, for that matter, Amazon's Instant Video: Unbox. Really, if you have media available on the home network or a USB stick the chances are the Live will be able to play it, including any 'ripped' Blu-rays in the collection.
On the Internet side, with the latest firmware in place (v1.06.04), BBC's iPlayer, Facebook, Picasa, and YouTube are the instantly recognisable widgets, though with no LOVEFiLM app present for now, film buffs will have to be content with the anaemic offerings from Netflix UK - unless you're happy fiddling with DNS settings in order to receive the much better Netflix US.
Setup
This part is a cinch. Power it on and the 'Mochi' Windows-like home-screen makes it feel familiar. Various configuration options line the bottom. Overall interface speed is acceptable, rather than electric, but it's the ease of use that stands out. Configure the wireless settings to prompt any firmware updates and you're good to go. Users put off by the remote-driven keyboard, which can be time consuming to use, can attach a standard USB keyboard - wired or wireless - for quickety-quick access. Apple iOS and Android users can also download a free app, called WD TV remote, that, as the name suggests, turns their phone/tablet into an on-screen navigation device.
Browsing for local or networked content is a breeze but, in our experience, cataloguing hundreds of files takes a while. However, once done, the interface is fairly nippy between any playback and associated menu screens. This is important as the device itself has no built-in storage.
The online component is also presented in a format that's easy on the eye. BBC's iPlayer, for example, looks, feels and responds in the same fashion as on a modern Smart TV, while Facebook and YouTube also work just fine. Extra widgets will be added through newer firmware releases, though one is left to the whims of WD's software engineers for updates.
Summary
Western Digital's Live TV is a versatile media player and Internet streamer that's widely available from £75. Offering a clean-cut interface for local and networked content, together with an ever-expanding array of streamed programming, it's definitely worth considering if there's a need to turn an older TV set into a cutting-edge Smart TV. For those that already have such a screen or are happy with the media qualities present in consoles, which do a good job of replicating what's available here, there isn't much new.
The Good
Easy to use, clean interface
Fault-free media playback
Online streaming improving with each new firmware
WiFi is built-in now
The Bad
No LOVEFiLM support, presently
HEXUS Rating

Western Digital TV Live (WDBGXT0000NBK)
HEXUS Awards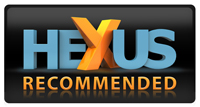 Western Digital TV Live (WDBGXT0000NBK)
HEXUS Where2Buy
TBC.
HEXUS Right2Reply
At HEXUS, we invite the companies whose products we test to comment on our articles. If any company representatives for the products reviewed choose to respond, we'll publish their commentary here verbatim.