End of an era
HTC has had a long and loyal relationship with Microsoft around Windows Mobile. While there were few alternative smartphone Oss that seemed fair enough, even though Windows Mobile was generally derided as slow, clunky and restrictive. But once Android came along HTC decided enough was enough.
Well, not entirely. Yes, HTC has launched around a million Android smartphones in the past year - including Google's own phone, the Nexus One - it did have one last go at Windows Mobile before it jumped ship: the HD2. Also, it must be pointed out that HTC is one of the launch partners for Windows Phone 7 when that launches later this year.
So, in reviewing the HD2, we're not only assessing the phone itself, but HTC's ability to polish a... tired operating system.
Easily the most distinctive feature of the HTC HD2 is its screen, or more specifically the size of it. It's a 4.3 inch WVGA capacitive touchscreen, which is as big as we've ever seen on a smartphone and pretty much defines the boundary of what's feasible. As a result, the HD2 is great for watching video and images on and the sound's not bad either.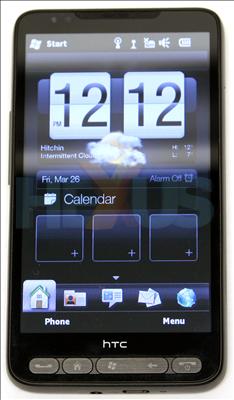 It helps that the HD2 runs a Qualcomm Snapdragon SoC, so that ensures it has enough grunt to deal with more complex things like video and graphics. We found navigating around the device, loading websites and watching video to be nice and quick, although there are still a few things, like rendering the icons next to items in the marketplace, where there was a bit of a delay.
Talking about the marketplace, there is one but it's not as extensive as either the iPhone or Android app stores. In fact that observation was one we found ourselves making on a regular basis, but more on that later.
Getting back to the hardware, the front is all glass bar the five buttons: phone start, home, app screen/start (a Windows logo), back and phone stop. The back is a sort of grippy plastic containing the camera and speaker, which the battery cover - which is annoyingly difficult to remove - is brushed metal.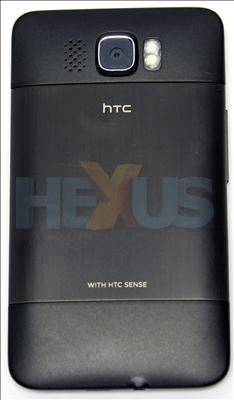 The sides of the HD2 are refreshingly free of extra buttons; with only a volume button on the left and holes for headphones, micro USB and the microphone on the bottom. Very tidy. The build quality seems good - sturdy without being too heavy and reasonably thin.


The extras we got were pretty minimal; consisting of headphones (with earpads and clip) and a USB to micro USB lead. The power adapter is well thought-out though - it's a plug and a USB port, so you don't need two separate leads.