Looks familiar
The FX1E has more than a passing resemblance to Sony's VX2100, although it is a meaner dark grey in colour and has a wide lens hood that shows its 16:9 intentions.

The viewfinder is attached to the rear of the carry handle, while the 3.5in LCD panel, unusually, sits at the front. Unusual or not, that location, with the panel placed well forward, has a number of advantages, and makes it especially easy to do waist-level shooting when holding the camcorder by the handle.

The panel offers 250,800 pixels of resolution and is, of course, 16:9 aspect ratio. It remains pretty clear even in bright lighting, although the angle of view isn't terribly wide so the panel needs to be positioned carefully for optimum visibility.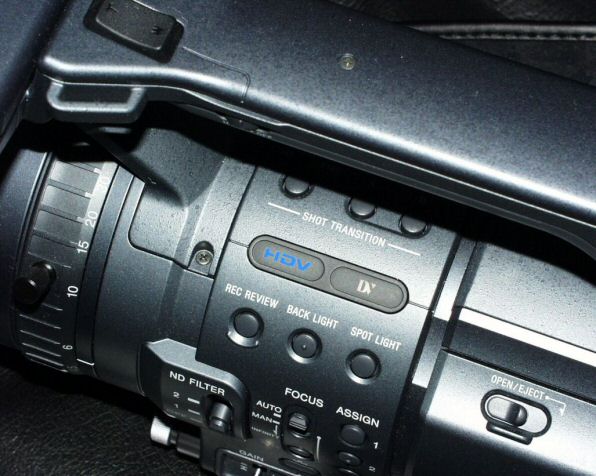 HDV? That'll do nicely



There are quite a few controls on the lens housing. A lever operates a clever barn-door arrangement which exposes the optics and, so, unlike a lens cap, won't get mislaid. There's the essential manual focus ring, and a switch to configure which control will be used for zooming.

This offers three options – use the lens ring, or the usual finger-rocker next to the hand grip, or a smaller rocker on the carry handle. The small rocker is intended to be thumb operated when shooting at waist level and is accompanied by a record button for easy access.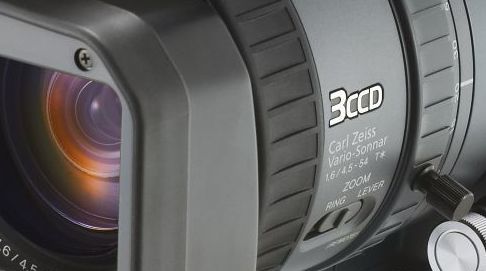 Underneath the LCD monitor are all the tape-transport controls,
plus controls for monitor volume, LCD brightness and backlight configurations.
The rest of the camcorder body is also awash with buttons and knobs



There's a sizeable dial for the iris, which becomes active at the touch of a separate button - the aperture can be varied from f1.6 to f11 – and a dedicated gain switch with three positions. These are at 0dB, 9dB and 18dB by default, but can be changed to other multiples of 3dB from the menu system.

Again, a different button is used to make this switch operational. A similar process is required with the shutter, although this is varied with the menu wheel at the back of the camcorder. The options range from 1/3sec to 1/10,000sec.

Two neutral-density filter settings are provided for reducing the effects of very bright conditions, and the camcorder prompts the user to turn these on when it reckons they're needed – and turn them off when they're not.

Unusually, white balance also has its own separate button to invoke manual setting. Then there's yet another button and a little three-position switch. Two of the positions allow for different manually-set white balances – great for shoots which continually alternate between different colour temperature environments. But the preset position invokes just one predefined white balance for either indoors or outdoors, and this has to be set through the menu system first.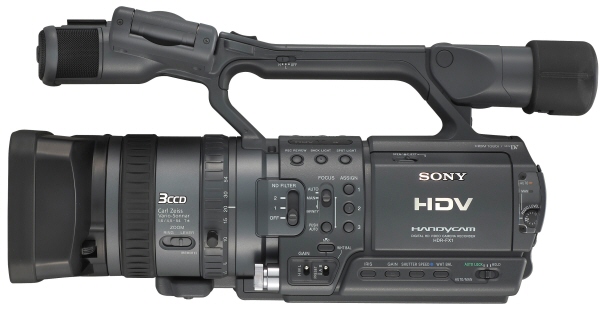 A wide selection of buttons, rather than constant menu-browsing, gives access to controls for iris, gain, shutter and white balance, while two lens rings provide easy focusing and zoom control And there are still more buttons. The Expanded Focus zooms the LCD panel by a factor of two into the central portion of the picture, allowing for finer manual focusing without affecting what's recorded. There are three Assign buttons that can be given different functions selected through menus.

Oh, and let's not forget the button for choosing one of six Picture-Profile settings. These are rather like custom Auto-Exposure modes, and have default values, such as film-look or sunset recording, but it's also possible to redefine them with a large variety of settings. The FX1E doesn't have standard AE modes such as Sports or Twilight, although some of the default Picture Profile settings are equivalent.

Rounding up the manual controls is an audio wheel. A cover needs to be popped off to reveal the auto/manual switch, and then the wheel can be used to adjust levels.

Annoyingly, the FX1E follows Sony's recent policy of using a charger that only revives batteries on the camera itself. However, the same battery format as the VX range is used, so anyone adding an FX1E to an existing arsenal of VX1000s and VX2000s will be able to re-use their batteries and chargers.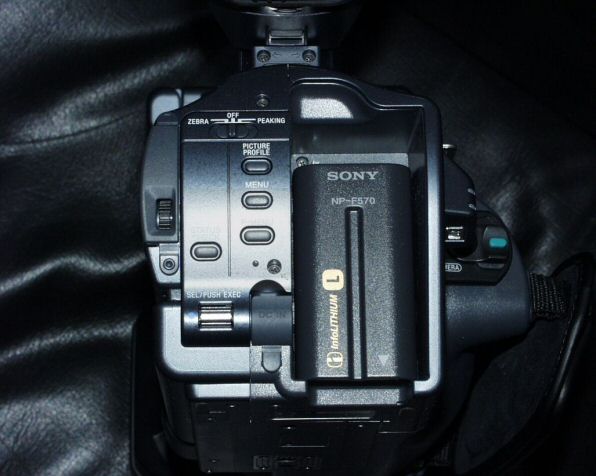 There are more buttons around the back, along with menu controls and DC-in for
powering the camcorder and charging the battery while on board