AVerTV USB 2.0 Plus
The first thing that strikes you upon opening the box containing the hardware is - Is this it?! The answer is yes - The AverTV USB 2.0 really is that small. Considering the potential for this part to be used with notebooks, where you may want to take it on your travels, it's size could prove to be invaluable.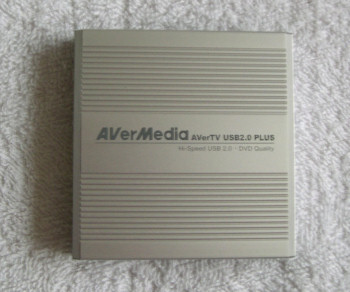 Click for a larger image
Basically all the hardware you need is contained within this sleek, silver, metallic box, which would quite literally fit in your pocket.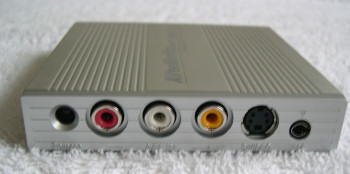 Click for a larger image
Taking a look at one side of the hardware, we find all of the inputs for the TV card. Starting on the left-hand side, first we have the infra-red receiver for the supplied remote control, followed by two inputs for audio, one for composite video, an S-Video in connector, and finally the input for the TV aerial signal. As you can probably see, this is in fact some kind of phono connector, and supplied with the package is a phono to RF cable which your TV aerial signal needs to be plugged in to. This particular device only takes an analogue signal, but AVerMedia are soon to release a similar board which supports DVB, and thus can receive free-to-air digital broadcasts in the UK.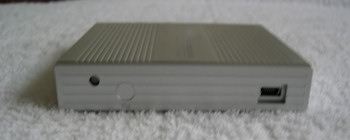 Click for a larger image
At the other end of the box, we find an LED, which lights up blue when the unit is powered through the USB bus (It doesn't require its own power source), as well as the connector for the USB interface. There is also room here for an FM radio connector, which is an option on this board, but is not included in the version of the hardware we are looking at today.