Box and bundle

Cue gratuitous box shot: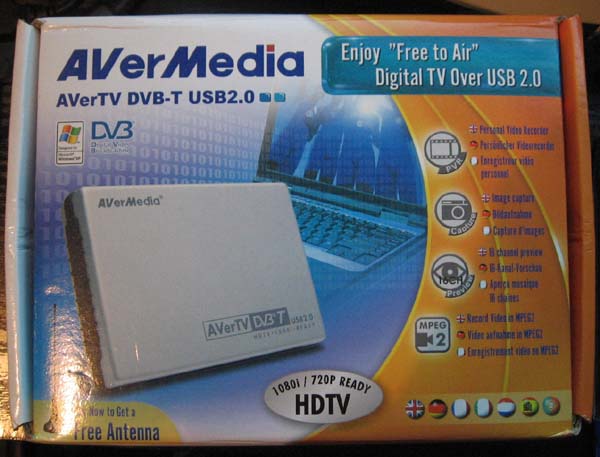 The packaging shot alone tells us a fair amount about the product. As, you can see, we tell you no lie - it's not thumb-stick-style but, instead, a small desktop box. We'll talk about the pros and cons of that form factor a bit further one. The packaging also alerts us to the tuner's HDTV capabilities but, without any HTDV transmissions over DVB-T right now, testing that feature is impossible.
Moving round to the back of the box we have the basic specification and requirements list (spelt out below the image).

To watch record and capture SDTV
* Pentium III 1.0GHz for Time Shift and record in MPEG-2
* 128MB RAM or higher
* USB1.1/2.0
* VGA card supports DirectX 9
* Sound card
* Windows 2000/XP

To watch record and capture HDTV
* Pentium 4 1.7GHz
* 256 MB RAM or higher
* USB 2.0
* VGA card supports DirectX 9 and DxVA
* Sound card
* Windows 2000/XP

The required spec isn't especially demanding though HDTV - which has something like four-times the definition of standard def TV - does need a faster CPU, along with more RAM and a graphics card (and driver) supporting DxVA (DirectX Video Acceleration).

As per the box, the tuner comes bundled with a quick-install guide, an installation CD, an IR remote handset and a USB cable (Type A to Mini A). A small aerial is also supplied but this isn't mentioned on the box because it's included as a promotional offer and won't always come in-pack.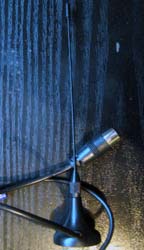 We might have suggested that would-be purchasers hurry to take advantage of this offer but, in truth, there's no need to rush. The aerial stands just 150mm tall (6in) and was unable to bring in decent digital signal in the area in which we tested it - and was no better for analogue. Indeed, although many DVB-T tuners ship with portable aerials, we've not found them to be usable - instead we've had to bring in signals from a roof aerial. It might be the case that these mini aerials work okay in some areas but our advice is not to rely on that - safer to assume that a decent roof or loft aerial will be needed.