New year, new tricks
HEXUS has looked at a number of network media players from A.C. Ryan in the last six months. When we first laid eyes on the Playon!HD back in August 2010 - impressed as we were with its ability to play practically any file under the sun through an eclectic range of output connections - the tired-looking user interface, lack of Internet integration, and non-adoption of high-speed interfaces made it good but not great.
Matters have steadily improved through newer models, notably by the Essential player that packs in a newer, fresher user interface. Now, however, A.C. Ryan is introducing a new set of media players, dubbed Playon!HD2, which look to move the range on to a different level.
Based around the same formula of housing a 3.5in hard drive within a box of tricks that can store, network and play all manner of multimedia content, the all-new Playon!HD2 packs in some nifty new features.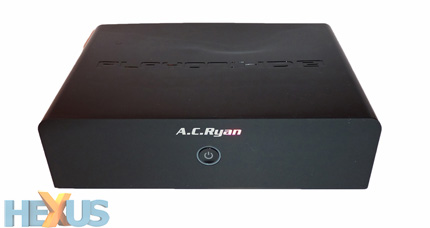 Designed to be housed in your AV rack or TV stand, appearances are important. Subjectively speaking, the revised model looks similar but feels a little better finished off. Measuring the same 227mm x 165mm x 60mm in size, it'll fit in almost anywhere.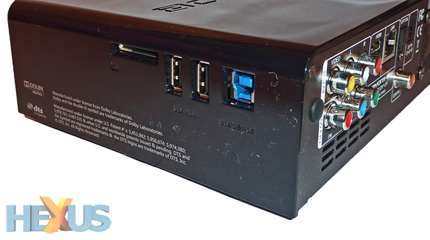 Changes are more than minorly cosmetic, as the Playon!HD2, on top of the standard multi-card reader, now packs Gigabit Ethernet and a USB 3.0 port for speedy transfers from a network or a PC to the local hard-drive, though the company points out that the networking port is optimised for streaming high-definition content rather than data transfer. While both of these high-speed ports are advancements over 10/100 and USB 2.0, we note that mid-priced motherboards have been specifying these faster connects for more than a year now; A.C. Ryan has been behind the game. We'd like to see a regular USB 3.0 port included, to connect up an external hard-drive or USB stick.
We also lamented the lack of built-in WiFi on previous models. Depending upon which version you purchase, the Playon!HD2 can be equipped with a built-in (PCIe-based) 802.11bgn network card or connected to the 'net via an optional USB dongle. Really, internal WiFi needs to be standard across the range.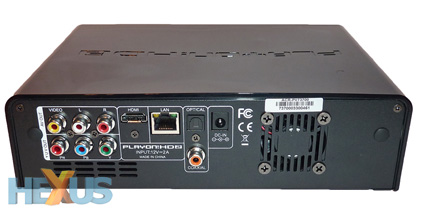 Flick it around to the back and the cornucopia of connections present on the original model all make it over here. These include HDMI 1.3, component, composite and optical and coaxial S/PDIF outputs. A single 40mm fan is the only noise-making component, ostensibly for the hard-drive, but it's loud enough to be distracting when watching movies at low volume levels.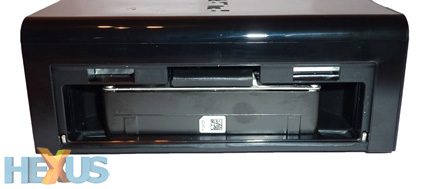 Whereas before one would need to remove the cover to access the internal drive, this time around A.C. Ryan employs what it calls an EZ Drive slot on the right-hand side. Simply remove the clip-on cover (as shown) and gently pull the internal drive out: simples.

Peering inside shows that it's held in a frame and plugs directly into the SATA power and connector ports on the far side, making it much simpler to swap drives around. A.C. Ryan states an adapter can be purchased separately that enables 2.5in drives - laptop-orientated and SSDs - to be held in place.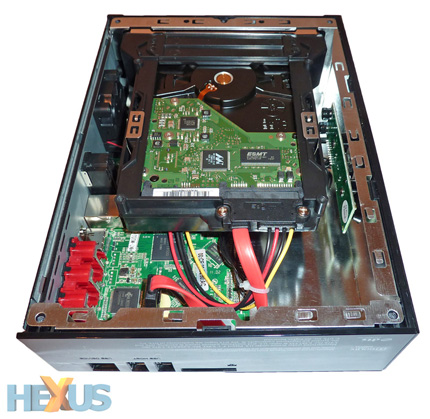 See how the frame works? The aforementioned SATA cables run from it and down to the motherboard that houses the Realtek video-processing chip.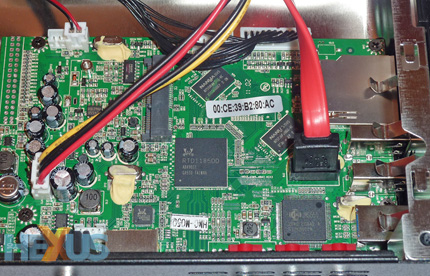 And here's the RTD1185DD and associated memory chips that combine to handle the 1080p load imposed by running high-def. video. The chip will play practically any type of video throw at it, and it now includes full support for BD-ISO as standard. USB 3.0 is run through a JMicron JMS551 bridge chip and the Gigabit LAN via a Realtek RTL8211D.

Ringing in the changes, the garish remote control paired with the first-generation unit has also been overhauled. The newer design feels more intuitive to use and more comfortable to hold, but it needs to be pointed almost directly at the media player for key presses to register.
Improvements over incumbent models rarely arrive without a hike in price. Retailer listings show that a drive-less Playon!HD2 - useful if streaming content from a NAS - costs £130 while a 1TB-equipped model arrives at £175 and a 2TB jobbie at £215. Prices are in keeping with the original, we note.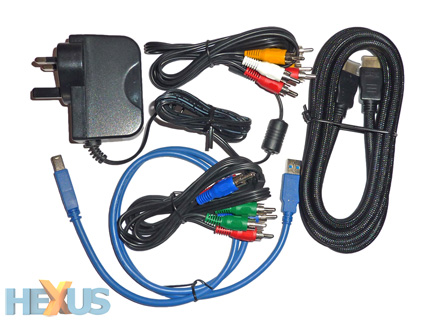 Not skimping on extras, the company throws in a USB 3.0 cable, chunky HDMI lead and both composite and component cables. The relatively low-power nature of the player means that the accompanying adapter, rated at 24W, simply slots straight into a plug.
Updated through the use of USB 3.0, Gigabit LAN, easy-access hard-drive system, better remote and a newer Realtek chipset, the PlayOn!HD2 has most of the hardware bases covered. Now swiftly on to software.