Introduction
I know a lot of people with Flip camcorders, and they all tend to love them. Yet, despite having ignited the growth of the pocket camcorder market, it's a product range I've admittedly overlooked. After all, isn't it just a toy-like handheld that shoots video but not much else?
Turns out that's exactly what it is, but either by luck or by design, that just so happens to be what thousands of consumers have been snapping up since the introduction of the first Flip camcorder in 2007.
Targeting the YouTube generation, the point-and-shoot handheld has proven to be one of the most popular gadgets in recent years. Such is the Flip's success that numerous imitators - the likes of Sony's Bloggie and Kodak's Zi8 spring to mind - are now hoping to capture their slice of the lucrative pocket-cam pie.
Competition is fierce, but Flip isn't resting on its laurels and is back in time for those all-important holiday sales with third-generation camcorders that claim to be the best yet.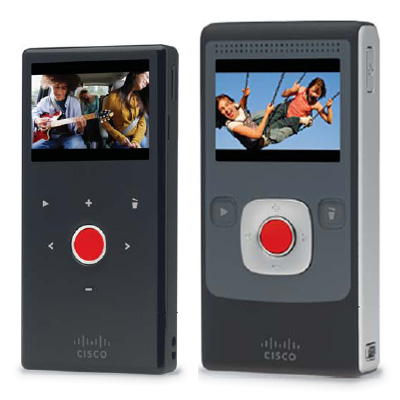 Third-generation upgrades
Outwardly, the new £159.99 Flip UltraHD and £179.99 Flip MinoHD don't look particularly different to previous models, but the few changes that have been implemented should be well received.
The bigger of the two handhelds, the UltraHD, is now 25 per cent slimmer than last year's design and no longer looks overly bulky - it's only slightly larger than its trimmed-down sibling, the MinoHD. In order to enable the slimmer profile, the camera runs on a bundled Lithium-ion rechargeable battery pack, and, in an effort to enhance longevity, the new UltraHD can also run on three triple-A batteries. A useful backup option should you need to keep shooting beyond the bundled battery pack's 1.5 hour specification.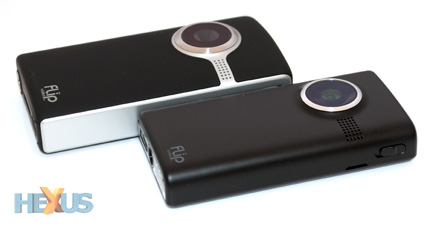 Bringing new features to the Flip ecosystem, the UltraHD has also adopted a new bottom-mounted FlipPort - a proprietary connector used to attach external accessories. No such accessories were available at the time of writing, but a condenser stereo microphone from Blue and a portable projector from iGo are on the cards. Other upcoming accessories are said to include storage expansion pods and portable battery backups.
The FlipPort is very much a wait-and-see addition, but what's immediately more useful is that both the UltraHD and MinoHD now offer higher-quality video capture. Despite using the same 1.6 megapixel CMOS sensor and recording at the same 720p HD resolution, all footage is now captured at 50 frames per second (up from 30) and an on-board electronic image stabiliser helps lessen the judder associated with pocket-cam footage.
The latter is arguably Flip's biggest upgrade, and combined with the 50fps frame rate, it helps capture footage that's a little smoother and less jittery than before.
Keeping it simple
If you were hoping to find revolutionary upgrades, you'll be disappointed. The third-generation Flips are very much an evolution of a winning formula. Unlike many of their immediate rivals, neither the UltraHD and MinoHD capture video at a full-HD 1080p resolution. The Flips don't allow you to take still photographs. There's no memory card slot for additional capacity beyond the built-in two hours. There are no image settings, no flash, no optical zoom (it's 2x digital only), no headphone jack, and both models are limited to a small 2in display.
The technology enthusiast in me demands more, but having spent the past couple of weeks with the Flip, I've come to admire the simplicity of it all.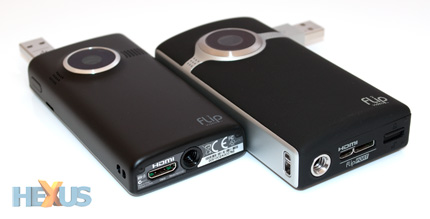 To capture video, you turn the camcorder on - which takes all of three seconds - then point it at your subject and hit the big red button to start recording. Hit red again and the recording stops. That's pretty much it. A red light lets your audience know you're recording, and the 4GB and 8GB models allow you to capture up to one hour or two hours of footage, respectively. A play button lets you view recorded clips, you hit the left or right keys to navigate through your library, and recordings can be deleted by pressing the trash can key. The only other two buttons - up and down - control the camcorder's digital zoom or playback volume.
It's all incredibly intuitive, and the simplicity is arguably the Flip's greatest strength. There are no menus to contend with (tell a lie, there's one that allows you to configure the language, time, date, key tones and recording light), there are no image adjustments, and most users will continue to operate the camera with the use of just two buttons: power and record.
There's practically no learning curve, and being able to instantly pick up and record is hugely rewarding. I've spoken to a few Flip-owning parents and they all agree; nothing beats it for quickly capturing precious moments, and the mums love the fact that it's handbag-friendly in size.
Sharing made easy
The Flip's integrated transflective display offers a reasonable 320x200 resolution and is comfortably viewable in sunlight, but when you tire of its limited 2in frame, it's easy to transfer footage to bigger, better displays. Both the UltraHD and MinoHD offer HDMI connectivity (a micro port on the former and a mini on the latter), but neither model ships with HDMI cables in the box.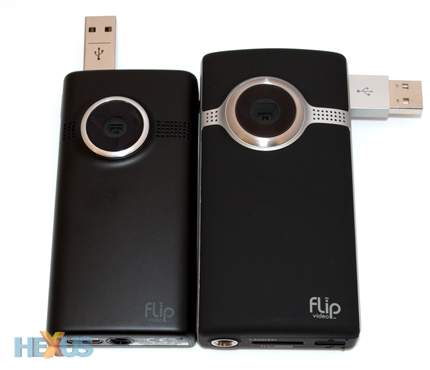 In fact, all you get in the bundle is a wrist strap, a soft protective case, and a user guide. But that again is testament to the Flip's simplicity - the camcorder's primary connection, USB, is built directly into the device. Push a button and a flip-out USB arm is made available, ensuring connectivity without a reliance on additional cables. The idea has its merits (there's no need to carry anything else in your bag), but the rigid flip-out USB arm can be awkward to connect to hard-to-reach USB ports, and there's no other way to charge the device unless you pick up an optional mains adaptor.
When connected to a PC (Mac's are also supported), the Flip's 8GB of flash memory is shown as removable storage and captured videos can be copied over with ease. If you're hoping to do more with your clips, each Flip camcorder also comes pre-loaded with a copy of FlipShare - a free movie manager utility designed to help you organise and share your media. Although simple, FlipShare is easy to use and provides two key features; users can put together movies in just a few mouse clicks, and content can be shared with others via email or popular social network sites such as Facebook, Twitter and YouTube.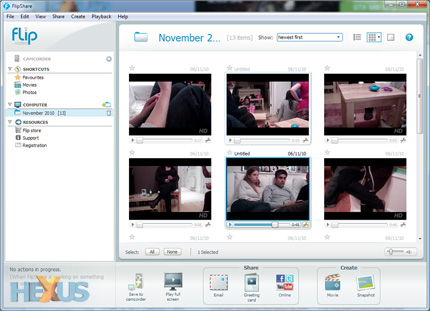 FlipShare isn't as advanced as say Microsoft's Windows Live Movie Maker or Apple's iMovie, but it's competent enough and works well as a means to piece together footage for online publishing.