Introduction
The following review has been kindly contributed by HEXUS reader Kalniel, a classically trained musician and singer who - in addition to realising long ago that science and computers make for a far better day job - has turned his knowledgeable ears to the ASUS Xonar Xense to provide fellow readers with a meaningful evaluation.
Many a compact hi-fi system comes complete with speakers especially matched to the system. Likewise many car audio speakers and head-units are tuned for each other and the space in which they find themselves. So it was perhaps only a matter of time before we saw someone target the computer audio scene in a similar fashion.
And that's exactly what the £200 ASUS Xonar Xense Premium Gaming Set aims to do. It comprises an ASUS Xonar Xense One sound card and a set of Sennheiser PC350 headphones, which ASUS claim have been co-developed and tuned to augment each other's strong suits. Interesting, then, that the PC350s have been around for some time, so it's unclear how much development they have specifically had for the sound card, save for the 'Xense' and 'powered by ASUS'  branding. But is the reverse true?
Box contents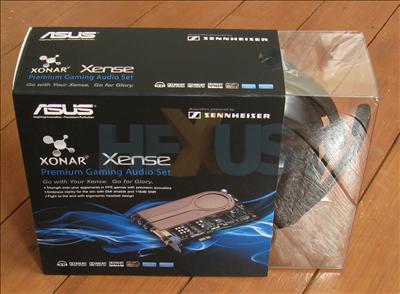 The first hint of Sennheiser's influence on this product is the box - matte black cardboard with glossy photos while a clear plastic protrusion shows off part of the headphones.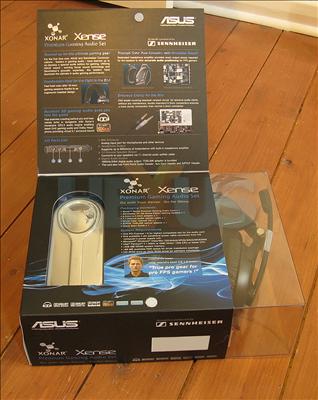 Open the Velcro-fastened flap and another window shows off the chrome EMI shield of the sound card. Very nice. You then have to engage in an act akin to reverse-engineering origami to get at the actual products, but it's worth it as you come away with a very stylish looking pair of cans, black and grey with a combination of matte and gloss finishes.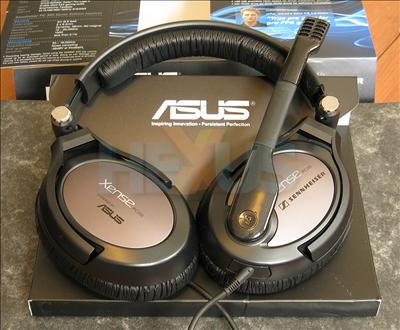 Size-wise they seem enormous, fully enveloping your ears and feeling like they're reaching almost below the jaw-line. They're relatively heavy, too, but quite comfortable. There is a microphone boom that can be rotated up and out of the way, and an in-line volume control/microphone switch which seems of very high quality and didn't create any additional noise during adjustment.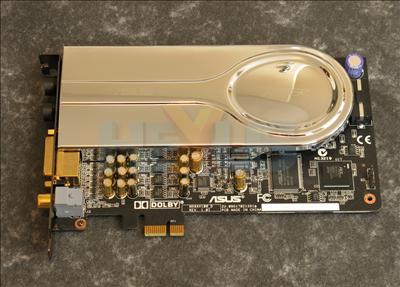 The card itself is also quite a looker - black PCB, anodised bracket, (mostly) gold-coloured electrolytic capacitors, gold connectors and that EMI shield looking like some kind of blinged up graphics card fan/exhaust (curiously the writing on the top of the shield reads 'acoustics powered by Sennheiser').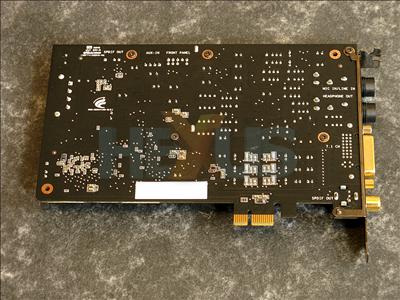 The rear of the card is almost completely clear of components, so fitting it close to another card shouldn't be a problem, although half-height cards will be much easier to fit in HTPC systems.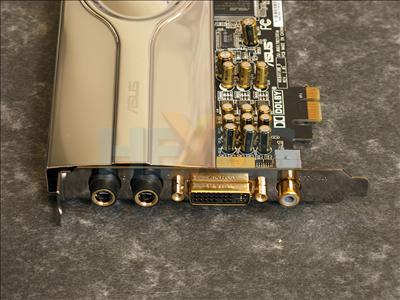 In terms of connectivity the first thing you notice is that the mic/line-in and headphone outputs are 1/4 inch (6.3mm) in size, rather than the more common 3.5mm. This is presumably to remind you that serious headphones use serious sockets (i.e., they are higher impedance than your average set). There is also a breakout connector fashioned from a DVI port which, via an adaptor, provides analogue 7.1 outputs. Finally there is an S/PDIF out at the bottom of the bracket.
Internally, there are pins for front panel connectors, S/PDIF out and auxiliary input. The card uses a PLX bridging chip to provide PCIe x1 connectivity, indicating the chip is natively PCI, and has an additional molex power input that needs to be supplied with power before the card will work.
Aside from the break-out adaptor, the set comes with a 3.5mm to 6.3mm adaptor, a S/PDIF TOSLINK adaptor, a quick-start guide and a CD containing drivers/control software and the full manual in PDF format.