Intel has announced a new cellular modem targeted at applications based around the Internet of Things (IoT). The Intel XMM 6255 3G modem has both an integrated power amplifier component and a transceiver component which run on only a tiny amount of electrical power. This standalone wireless modem is claimed by Intel to be the world's smallest such device, reports Venture Beat.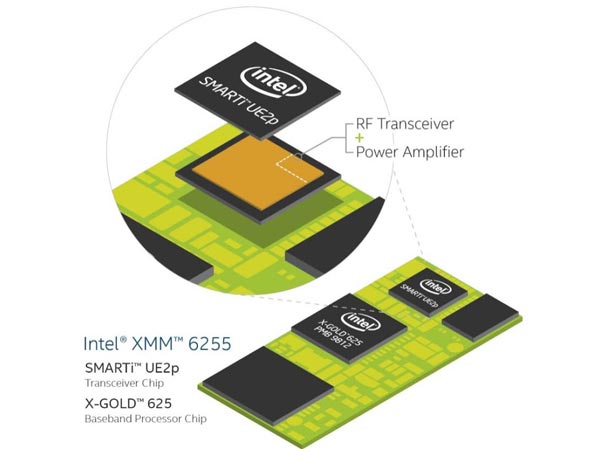 Many IoT designs rely upon Wi-Fi or Bluetooth Low Energy for their communications functions but Intel thinks that its 3G (and 2G) communications modem is the best option. "Wherever mobility, reliability, and security are important in combination, that's where cellular is better," Stefan Wolff, COO of R&D in Intel's Wireless Platform group, told the EE Times. The modem achieves up to 7.2 Mbits/second download speeds using its single antenna. This choice is regarded as the "sweet spot" between antenna volume and data speeds for IoT devices according to Wolff.
As mentioned in the intro, Intel's IoT modem solution includes the modem, an integrated power amplifier and a transceiver, but it is little larger than a penny coin. It can both transmit and receive data. It is built to work well in low signal strength areas. Thanks to its size and robustness it can survive well in the conditions that are typical for IoT deployment. For instance Venture Beat suggests a farmer may use IoT sensors equipped with this modem on his land to detect and monitor levels of moisture. Thus the farmer can make the best use of his water resources.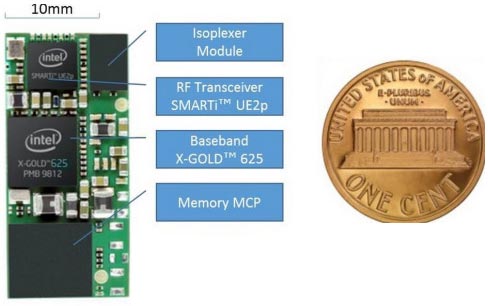 At the time of writing Intel hasn't released data on the XMM 6255's power specifications (though they are said to be 'light'), or its pricing. The component has already started to ship in some products by U-blox and has secured four further design wins.
IoT European Research Centre estimates suggest that by 2020 there will be 250 'things' connected to the internet every second, so making a popular integrated modem component could be very good business for Intel.