Samsung has arguably the most impressive stand at CES 2010, and in addition to rolling out impressive TVs and a cross-platform App store, it's also trying its hand at e-readers.
With the e-reader market seeing rapid growth following successful devices from the likes of Amazon and Sony, it's no surprise to see Samsung getting in on the act, and it'll do so with two initial products - the E6 and E101, measuring 6in and 10in, respectively.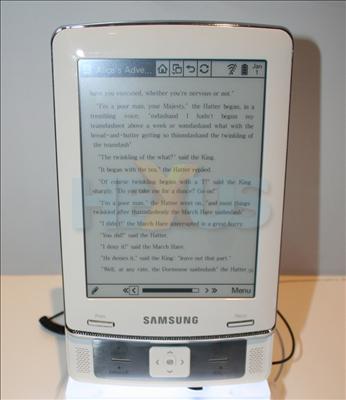 It looks like just another reader, but despite its Kindle-like design, Samsung's solution differentiates itself from the competition by offering handwriting functionality via a built-in electromagnetic resonance (EMR) stylus. During our brief spell with the device, we found the stylus to be suitably responsive, and it's ideal for making notes or annotations - which it'll then store on the device until deleted.
However, whilst handwriting capability is a welcome addition, it does warrant a significant premium, with Samsung pitching the E6 and E101 at $399 and $699, respectively.
They're not cheap, then, but they do offer both Wi-Fi and Bluetooth connectivity, and Samsung reckons a four-hour charge will provide around two weeks of use. More importantly, Samsung has signed a deal with Google and will offer Google Books' library of millions to its users. Intrigued? We're told both devices will become available "early in 2010".