Pro plastic
Plastic Logic is a UK company that has developed its own, proprietary plastic electronics technology. At CES 2010 is launched a new e-reader using this technology - the QUE proReader - that is designed to do a bit more than your average e-reader.
The QUE (pronounced like the letter 'Q', but it also means 'what?' in Spanish, which could cause confusion) is a very thin, light monochrome e-reader. It has a 8.5x11 inch touchscreen display and is connected via Bluetooth Wi-Fi and optional 3G.
We spoke to VP of technology - Martin Jackson (pictured) explained that the QUE will initially be launched only in the US. While it's designed for the professional user, it doesn't yet handle email, but that will come later in the year. A number of content providers, such as newspapers, are making their products available through the QUE Store.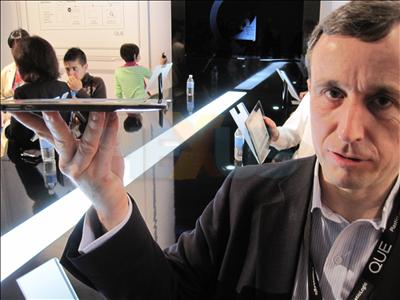 As you can see, it's a nice display, and the touchscreen user interface looks pretty intuitive. One sight niggle was that there was a small delay when opening new pages.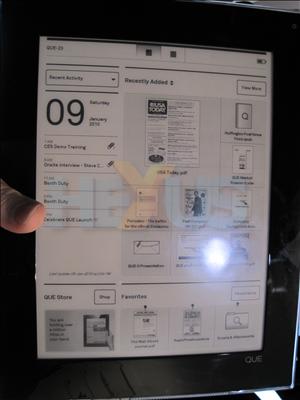 The 4GB Wi-Fi only version costs $649 and the 8GB 3G one costs $799, so Plastic Logic is going to have to do a good job of demonstrating the all the unique things the QUE can do if it's going to get people to pay that kind of premium.