We've come a long way from Barbie dolls
Wandering around the CeBIT booths, we just so happened to stumble upon a crowd of people gathered around what seemed like nothing. Once we'd got a little closer however, we soon realised what all the fuss was about: Pleo.
According to Bob Christopher, CEO of UGOBE, Pleo "is the first truly autonomous Life Form capable of emotions that allow personal engagement", and what that basically means is that Pleo is the toy to have in 2008.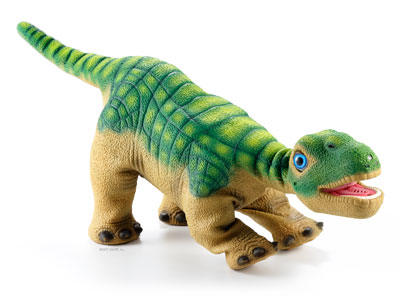 The literally all-singing, all-dancing dinosaur, pictured above, has been available in the US for some months now and is now starting to appear in the UK at an RRP of £249.99 - quite a chunk of cash for a toy aimed at users of age eight and above.
So what sets Pleo apart from other robot-toys? Well, what drew the crowds at CeBIT was Pleo's personality and his ability to interact with his owner and surroundings. Whilst being demonstrated, Pleo was made to laugh by tickling his paws, made to sleep by cuddling him and even played a game of tug of war by latching onto a pen with his mouth.
Pleo's emotions are the key to making the toy dinosaur so incredibly cute. Based on a one-week-old infant Camarasuarus, Pleo will laugh, cry, hiccup, sneeze and do all sorts to make you love what essentially is a machine. I had the chance to spend a good half hour playing with Pleo and we almost became good friends - I was actually sad to have to leave him. Worse still, I got the impression he was sad to see me go as he looked on through his camera-based vision system!
It's an expensive prospect for potential buyers, Pleo won't run to the door to greet you as your household pet might do, and, of course, he'll run out of batteries quicker than your dog. Still, he's a truly adorable toy and in our estimation, one of the most eye-catching exhibits at CeBIT 2008.
Every Pleo Life Form includes:
Significant Processing Power

Two 32-bit Microprocessors – central and image processing
Four 8-bit Subprocessors – motor control

Highly Articulated Movement

14 Motors
Over 100 Custom-Designed Gears

Complex Sensory Network

Infrared and camera-based vision system – object and colour detection and navigation
Two Microphones – binaural hearing
Eight Skin Sensors – head, chin, shoulders, back, legs
Four Foot Switches – surface detection
14 Force-feedback sensors – one per joint
Orientation Tilt Sensor – body position
Infrared Mouth Sensor – food detection

Multiple Data Ports

Mini USB port – online downloads
SD card slot – Pleo add-ons
Infrared transceiver

High-Quality Sound

Two Speakers – mouth and back

Power Source

Rechargeable and replaceable NiMH battery pack
Official website: PleoWorld.com