Teu-who?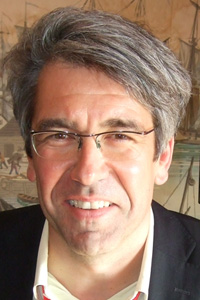 When it comes to speaker systems, Teufel probably isn't a name that immediately springs to mind - but perhaps it should. The award-winning manufacturer, based out of Berlin, Germany, has been specialising in loudspeakers since 1979 and has subsequently become Germany's most successful loudspeaker vendor.
Despite its success, however, the Teufel brand remains relatively unknown in the wider regions of Europe. Teufel's managing director Thorsten Reuber (pictured right) reckons that's about to change as the company shifts its focus onto key international markets - including the UK. In the coming 12 months, we've been told to expect an improved UK-specific website, pricing in British Pounds as opposed to Euros, and a UK customer support number that won't be charged at the current international rates.
But will simple localisation help one of Germany's best conquer the UK market? Perhaps not, so HEXUS visited the Teufel team over in Berlin to learn more about the company's philosophy - and aside from the expected German efficiency, there's plenty to like.
Teufel - which, incidentally, is German for Devil - is a company consisting of 50-odd employees, and what quickly becomes apparent is that they all seem to have one thing in common - a love for high-end speakers and excellent sound.
Irrespective of the faltering economy, Teufel continues to see year-on-year growth, and the key factor behind new customers remains word-of-mouth recommendation. According to Reuber, Teufel's recipe for success is "quality, price, credibility and service", and the company vows to provide "the best sound for less money".
All sounds a little too simple, but Teufel operates a largely in-house business model that has a number of advantages. First and foremost, the company sells its products direct to the consumer, and by cutting out the middleman it hopes to pass on savings to the buyer - whilst maximising profits, of course.
On the customer service front, the German manufacturer backs all of its loudspeakers with a generous 12-year guarantee. What's also useful is that Teufel's support team is situated in the same building as its engineers - so knowledgeable advice is never out of reach.
Direct distribution does have a major disadvantage, though, as customers are unable to test speakers prior to purchase. Pushing the boat out, Teufel attempts to turn that negative into a positive by providing customers with an "eight-week trial" period. The company will deliver speakers direct to your door and let you test them in your own environment for up to eight weeks. If you're not satisfied, send them back and you'll be given a full refund.
Still, that process isn't as easy as taking a competing solution back to your local PC World, so Teufel may need to rely on providing what it calls "an extraordinary sound experience". Looking ahead, the company will roll out a wave of new speaker systems in the coming weeks, and we've been treated to an early listen. First up is a PC speaker system that covers new ground for the German manufacturer.