Intel drives for data centres
You may remember that a short while back we took a good look at the Intel DC S3700 solid-state drive (SSD). Priced at around £1,500 for a range-topping 800GB model, immediate value isn't, and shouldn't be, the criteria it is judged against. Flat-out speed isn't the DC S3700's forte, either, leaving consumers scratching their heads as to why it's so relatively expensive when compared to regular SSDs from Corsair, Crucial, Micron, et al.
The drive's very name provides a large clue to its provenance and intended purpose. The data centre SSD, says Intel, "delivers data at a breakneck pace, with consistently low latencies and tight IOPs distribution." Consistent and tight are the key terms, as while most drives will advertise tantalising average performance figures, such numbers, especially in the data-centre space, don't tell the full story.
Consistency - the quality of producing near-identical performance over a sustained period - is arguably more important than sheer throughput in a data centre, because the overall responsiveness of a multi-drive server is defined by the slowest SSD. Allied to consistency is durability and reliability, with Intel claiming 10 fully random Drive Writes per Day (DWPD) over a typical five-year life, giving the 800GB model an endurance of 14.6 petabytes.
Yet examining the drive in isolation, as we have done, doesn't show it in the intended environment. Multiple DC S3700s are designed to be populated into multiple storage servers often found in racks. To that end, and with help from server specialists Hammer (Intel's no. 1 server specialist server distributor) and Intel, we snagged a 2U, 24-drive, Xeon-powered DC S3700 SSD server for technical evaluation - enterprise ogling, if you will.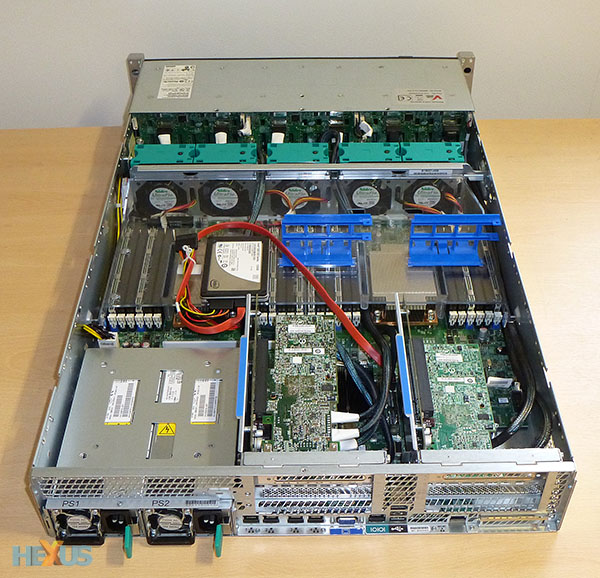 Chassis, motherboard, memory and power
Slipping off the cover and looking at it from the back first, the storage goodies are contained inside a standard 2U (71cm x 43cm x 8.7cm) rack-mountable chassis. Primed for data centre and cloud-computing environments and outfitted with two removable, redundant 750W Platinum-certified PSUs (bottom-left), the chassis is supplied with a S2600GZ4 Socket R (LGA 2011) motherboard presented in a custom 42cmx42cm form factor. The overall look and feel is very similar to Hammer's SecuriStore range.
CPU oomph is provided by two Xeon E5 26xx-class chips that are cooled by five Nidec Ultraflow fans blowing air across the large heatsinks and, as you can see on the first picture, channelled through to the heatsinks and RAM via a large plastic air duct. Surrounded by 24 DIMM slots that accept DDR3 ECC UDIMM memory at up to 1,600MHz speeds, the board's 8-channel controller has access to, potentially, 768GB (24x32GB) of RAM.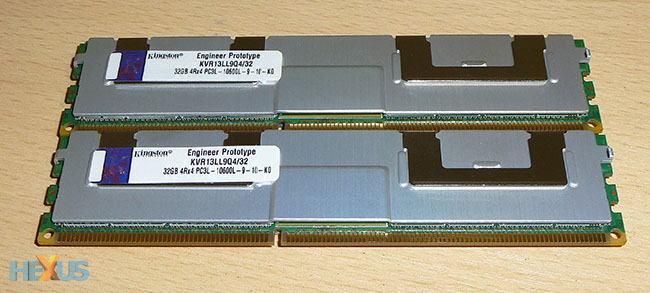 Making good use of all eight channels, Hammer outfits this server with eight prototype Kingston 32GB DDR3-1,333MHz load-reduced modules (LRDIMMs) operating at 1.35V and at 9-9-9 latencies. 256GB spread over eight sticks is impressive density, enabling a further 512GB to be added, budget very much permitting.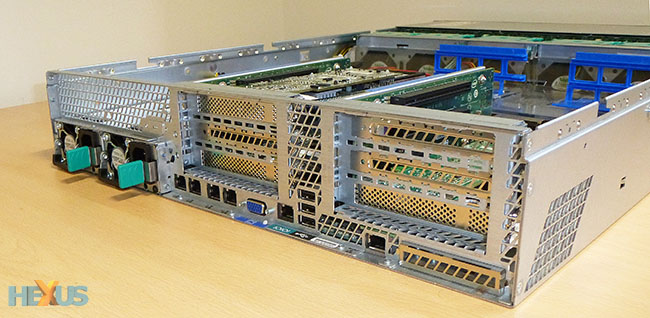 There's little need for fast graphics on a server of this ilk, and the board has basic (integrated) video output via D-Sub. Four Intel gigabit LAN ports provide networking to the outside world, while three USB 2.0, out of a possible seven, are located on the rear, too.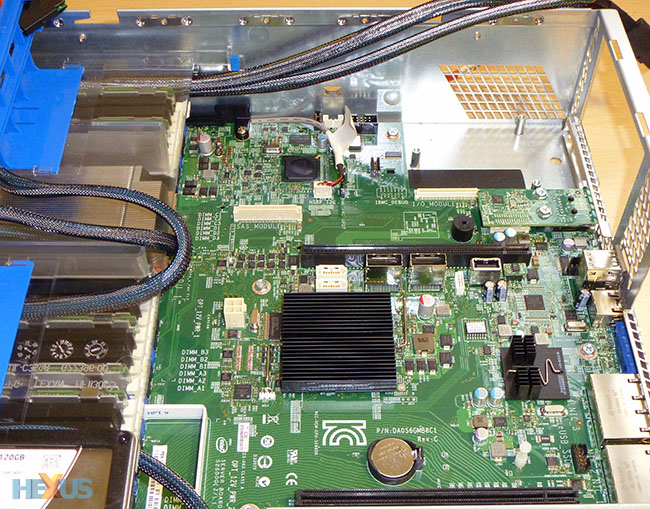 Ostensibly a storage server but with only two SATA ports on show, you may wonder how the board accommodates up to 24 drives. The onboard SATA 6Gbps ports are there for booting the server into the operating system of your choice. Here, Hammer uses an air-duct-mounted 520 Series 120GB for the task, shown bottom-left.