Making waves
The first big press conference of CES came a day early from tech giant ASUS. All the new launches we notebooks of varying shapes, sizes and chassis materials, with the emphasis on design, which you can read all about here.
To finish off, however, ASUS chairman Jonney Shih continued an ASUS CES tradition by giving us a glimpse of some fun stuff we might see down the line. At first he said we might be seeing stuff later this year, but when pressed to be more specific he conceded it could be as much as five years before we see anything.
The concept is called Waveface, which right now is merely being offered as "ASUS' context-based vision of the new digital life." In essence, it's an extrapolation of current mobile computing trends with an emphasis on flexible screen technology.
This vision is currently manifested in three forms. Waveface Ultra is a high tech wristband, all of which is a screen. It will be equipped with motion sensing technology to allow it to respond to user gestures and can be bent flat to provide a more conventional mini tablet.
Waveface Light is, to some extent, a larger version. It can be a tablet or folded in half and transformed into a sort of screen only notebook.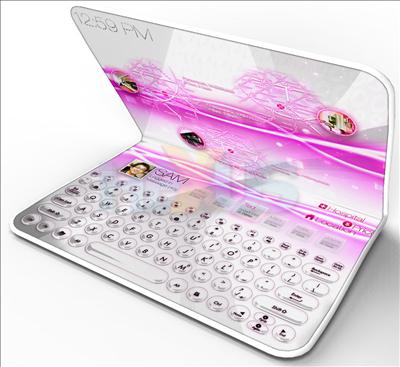 Waveface Casa is a large screen - not necessarily made out of flexible material - but the unique cleverness of it is not immediately apparent. Here's what ASUS has to say about it: "The Waveface Casa is a large widescreen display that acts as both entertainment center and internet portal. When not in use, a flexible, decorative cover obscures most of the screen, only exposing small areas that display contextually-relevant information."