A few hours ago Frank Azor, Vice President and General Manager Alienware, Gaming and XPS at Dell, announced that he will be leaving Dell on 3rd July. The Alienware and XPS chief was a co-founder of Alienware before it was bought up by Dell, and has been developing the Alienware brand for 21 year in all. It must be a heart wrenching decision to leave, and in a blog post he seems to reflect on the time very fondly. However, we don't really know what opportunity has presented itself and inspired his move, as yet.
To briefly sum up Frank Azor's career; he co-founded Alienware in 1998 and worked in a wide ranging role to establish the company but with a particular emphasis on marketing and PR. Alienware was bought by Dell in 2006 and Azor stayed exclusively with the brand until 2012 when he got more responsibilities in Dell's other businesses. Later, in 2014, his role was more clearly defines as Vice President and General Manager Alienware, Gaming and XPS at Dell. This is the position that Azror currently holds and will be leaving on 3rd July.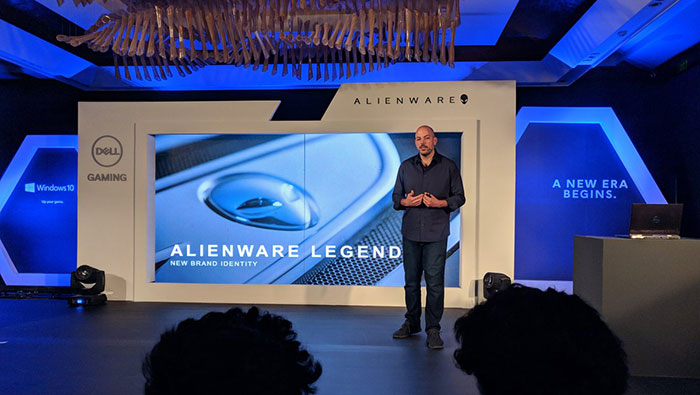 Azor has penned a blog post as a farewell message to his colleagues at Dell and the Alienware community. In the post he says how he co-founded the Alienware brand with "a couple of lunatics," which transformed the gaming PC industry and gained the "hearts and minds of hundreds of millions of fans". He is still proud to be associated with Alienware and its achievements such as the "world's first liquid cooling desktops to the launch of the first gaming notebook". Those do indeed sound like milestones to boast about. Now, Azor leaves Alienware and XPS in a healthy sounding position with products bringing in a combined >$3 billion in revenue by the latest figures.
Leaving behind Alienware and Dell is hard but Azor doesn't give us much more than a teaser about what pastures new he will roam. In his blog post he wrote that "the builder and creator in me is ready for the next challenge". His Twitter feed added that the move will be to "a new opportunity to help continue to grow the gaming industry". The vagueness might be something to do with the next big project involving an as-yet-unannounced gaming technology or product, one might assume.