Store wars
The app store market has rapidly turned into a multibillion dollar business. Researcher iSuppli reckons it was worth $830 million in 2009, $2.1 billion last year, and will almost double to $3.8 billion this year.
As with so much of the mobile device market, Apple has led the way and is even trying to trademark the term to prevent other app stores from using is. As a consequence Apple still accounts for the vast majority revenue from all app stores, with the forecast projecting a 76 percent share this year, shrinking to 60 percent by 2014.
It will surprise nobody to hear that the fastest-growing app store is the Android Marketplace, which iSuppli expects to grow by almost 300 percent this year to $425 million. This will enable it to overtake the BlackBerry App World for second place, with the latter expected to manage $279 million this year.
The only other app store deemed worthy of mention in the report is Nokia's Ovi store, which is expected to bring in $201 million this year. The Windows equivalent doesn't even get on the radar, nor to those developed by handset-makers and operators.
"With consumers continuing to show robust, unflagging interest in downloading games and other applications to devices like smart phones and tablets, collective revenues from the four stores will climb sharply this year," said Jack Kent, analyst, mobile media, for IHS/iSuppli.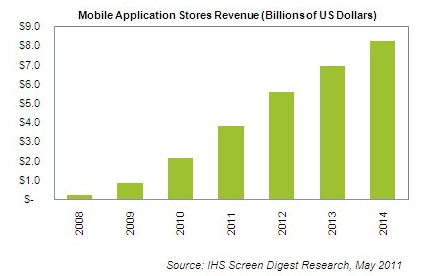 In related news, Juniper Research reckons revenue from application-to-person text messages will top $70 billion by 2016, overtaking revenue from person-to-person texts in the process.
Report author Daniel Ashdown said: "While SMS is one of the oldest value-added services, it has an enduring appeal for a number of reasons. In terms of text communication it is unrivalled on the mobile device in its ubiquity -- virtually every handset in the world can send and receive it. This makes it extremely appealing for brands who want to enable communication with their customers, as unlike other messaging mediums, they know it will reach almost its entire intended audience."