Chromebooks weren't that hard to find in the UK if you wanted one. The last time I popped in the PC world superstore in my home town there was a choice of three or four set up, on display, turned on and ready to test out. Also there are various online purchasing options. However that wasn't enough for Google who are striving to popularise these nouveau netbooks; you are now going to be able to buy a Chromebook when you pop down to Tesco to replenish your supplies of Patum Peperium. In America it's a similar story. Google Chromebooks were previously only available online or in Best Buy stores but are now going to be available within Staples and Walmart stores.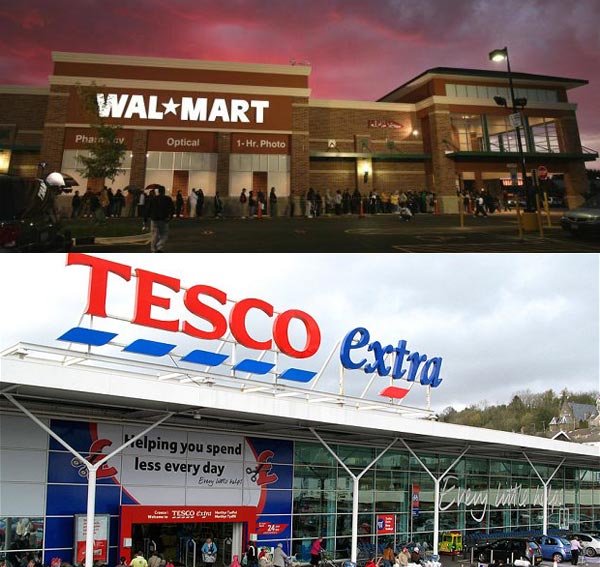 In a blog post announcing the initiative Google's director of Chromebook marketing, David Shapiro, said "Chromebooks—a fast, simple, secure laptop that won't break the bank—will now be carried in over 3 times more stores than before." He continued and quantified the availability improvements "Starting today, Walmart will be making the newest Acer Chromebook, which has a 16GB Solid State Drive (SSD), available in approximately 2,800 stores across the U.S., for just $199." In the US, from this weekend, Staples are to bring a selection of Chromebooks by Acer, HP and Samsung to over 1,500 stores. Other stores such as Fry's Electronics and Office Depot will be added to the stockists lists in the coming months.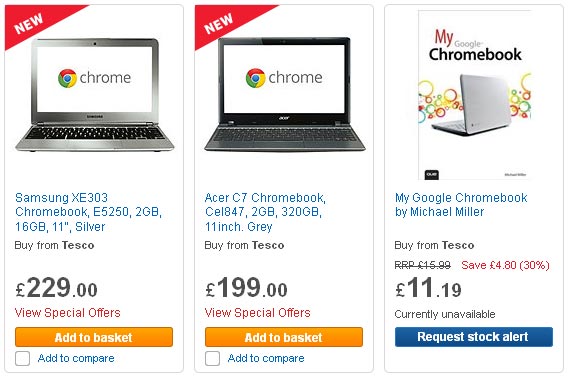 Back in the UK there will be 116 Tesco stores carrying Chromebooks. You can see from the Tesco website, screengrab above, that Tesco will have two popular cheaper Chromebooks on offer; the Samsung XE303 at £229 and the Acer C7 at £199. Both are 11-inchers but have a very different architecture; the Samsung is ARM based and uses a 16GB SSD for local storage, the Acer is uses a dual-core Celeron processor and a comparatively ample 320GB HDD. We note that the Google Chromebook Pixel is still not available in the UK and Tesco aren't going to change that.
If Tesco and Walmart can't help Google really shift some Chromebooks then what will it do next?