Provision
When AMD first announced its Vision notebook brand, its aim was to try to move away from 'speeds and feeds' and get consumers to start looking at notebooks more as consumer electronics products. So it's only appropriate that AMD should focus on reinforcing this concept at the Consumer Electronics Show.
We got a sneak preview of what AMD is showing this year and spoke to senior product marketing manager Ron Myers (pictured below). He explained that AMD is expanding its Vision platform - originally just a consumer proposition - to encompass business notebooks too. This is essentially an evolution of its Business Class platform.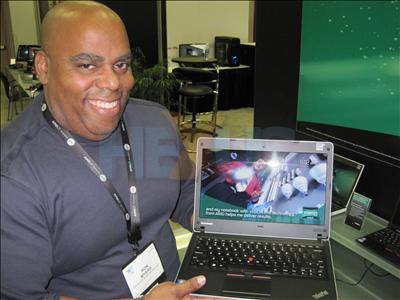 As you can see from the photo, what seems to have really pleased Myers is the decision of Lenovo to add AMD processors to its ThinkPad proposition for the first time. The range of Vision Pro notebooks shown below is made up entirely of Lenovo and HP products.