Scanner surprise
Remember when the only way to get a photo on to your computer was to use a flatbed scanner? We assumed the heyday of the scanner disappeared with the advent of the digital camera, but Fujitsu insists this is far from the case.
We spoke to Fujitsu's EMEA business development manager - Robert Young (top right) - and its EMEA general manager for sales operations - Mike Nelson (bottom right). They were keen to share the, to us at least, well-guarded secret that the scanner market is not only alive and kicking, but growing rapidly.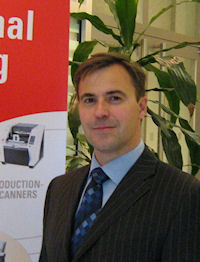 "At the lower end maybe people are looking at all-in-one devices, but higher up there is still demand for document scanners and it's growing at around 30 percent per annum," said Young, in response to our assumption that demand for stand-alone scanners must have tailed off massively.
However, Nelson confirmed: "The consumer flatbed scanner market for photos is indeed declining."
It seems that improvements in OCR (optical character recognition) and database software have made it advantageous for businesses to scan their paper documents and store them electronically. Not only does this free up filing cabinet space, but facilitates access and collaboration.
"The use of paper is still growing within business," said Young. "And, of course, there are legacy documents. This technology helps cut costs - big business is already doing it and now it's growing among SMEs."