Seeking balance
The war of words between NVIDIA and Intel has lulled of late and VP of corporate marketing Rob Csongor (pictured) wasn't about to reignite it when he spoke to HEXUS at Computex 2008 today.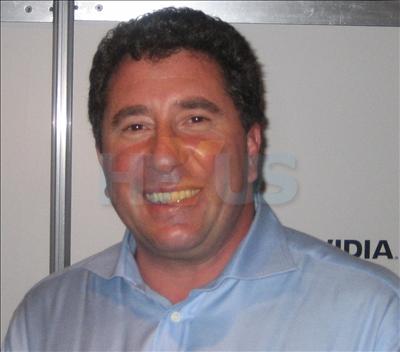 Intel didn't get off too lightly however, as Csongor explained he believes that, as CPUs get cheaper, Intel's upcoming Nehalem architecture is an attempt to associate its graphics more closely with the CPU, thus allowing it to extract profit from the chipsets it currently almost gives away.
"They're combining the CPU and GPU together," said Csongor. "But the truth that has been consistent for Intel graphics is that, no matter how you position it, if it sucks people won't use it."
On Larrabee, Intel's planned discrete GPU, Csongor thought it was an inevitable response to the trend away from sequential processing. Asked about Larrabee as a threat to NVIDIA, Csongor responded dryly. "Larrabee is flawless on Powerpoint."
"Larrabee is flawless on Powerpoint."
It looks like NVIDIA is now calming its rhetoric on GPU vs CPU and is just trying to convince the market to swing the equilibrium in its favour. On a marketing level, this means convincing the PC buying public of the benefits of discrete graphics for uses over and above gaming.
This is why NVIDIA has appointed an ad agency – to reach the mainstream market – and Csongor also seemed pretty excited about an event NVIDIA is hosting in August called NVISION, which is touted as The universe of visual computing in one place, at one time.
But Csongor acknowledged that the channel is vital to its aims. Ultimately, the majority of mainstream consumers aren't that bothered about the details of the components in their PC, but if their retailers tell them discrete graphics are desirable, then the battle's half won.