Teutonic technology
Hardly anyone from the UK seems to have heard of Trekstor, but that might be about to change. It has targeted the UK as a key expansion territory and, if its presence at CeBIT is anything to go by, it doesn't tend to do things by halves.
Where, for example, AMD had to tolerate a meeting area next to a stand playing an unremitting stream of thrash metal so loud that you almost had to physically embrace your interviewee in order to hear them; Trekstor just grabbed a hall all to itself and ensured its resident live band kept the volume at an acceptable level.
Trekstor has only existed since 2001, when Daniel Szmigiel saw his first flash drive and was smitten. So he got his Dad – Shimon – involved and they started a business selling flash drives drives in Germany.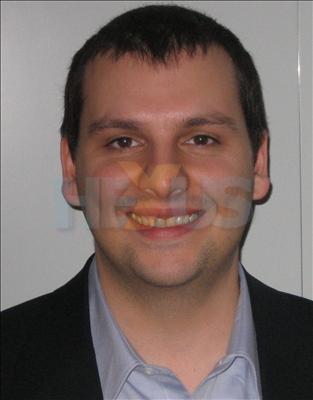 By 2004, inevitably, the company had diversified into MP3 players and today it claims to sell more of them in Germany than Apple. It also reckons to be number one in external HDDs, with a 32 per cent share, and top-dog in flash drives, with 17 per cent of the domestic market.
Stupid product?
To find out more about Trekstor's UK ambitions HEXUS.channel spoke exclusively to Daniel's brother and the company's CTO – Gil Szmigiel. 'We have already created Trekstor UK Ltd,' he said. 'It was formed last September in Cambridge. We are a family business with a family culture, currently employing around 200 people. When my brother first told me his idea I said 'This is the most stupid product I've ever seen – who would want that? Why not just stick with floppy disks?'
Gil was clearly talked around and, after a while, ditched his job as a software engineer to join the family. Within a year of formation, Trekstor was breaking even on pen drives. It moved into external HDDs in 2003 and while the drives themselves are made by the likes of Western Digital and Seagate, Trekstor designs, makes and assembles the enclosures itself.
We asked Szmigiel what challenges he has faced in breaking into the UK market. 'Personal contact with the purchasing guys at mass merchandisers is vital in the UK,' he said. 'The need to be there in person is the main reason for creating a UK subsidiary [headed up by export manager Can Acar].
'We are already sold in the UK through advancedmp3players.co.uk, DSG, Argos and John Lewis. We are currently distributed by CMS Peripherals and Northamber and we are in talks with Ingram Micro. We have never paid just to get on the shelves of any store.'
Asked why the UK channel should consider working with Trekstor instead of say, SanDisk or Western Digital, Szmigiel said, 'Our margins are very competitive and we are receptive and open to dialogue. Being smaller I believe that we are more flexible and try harder than the larger vendors. We intend to spend a significant amount on marketing and on growing the brand in the UK. We know we have some adapting to do for the UK market but we expect to put up some big numbers.
Design genius
Finally, while HEXUS.channel usually leaves the product side of things to the rest of HEXUS, we had to bring our readers' attention to this piece of design genius.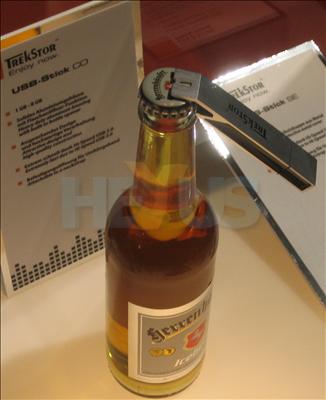 A flash-drive-cum-bottle opener. The only accessory a modern gentleman will ever need. Yes, yes and thrice yes.
Press release: TrekStor unveils 1.8" DataStation microdisk