Benchmarks: overclocked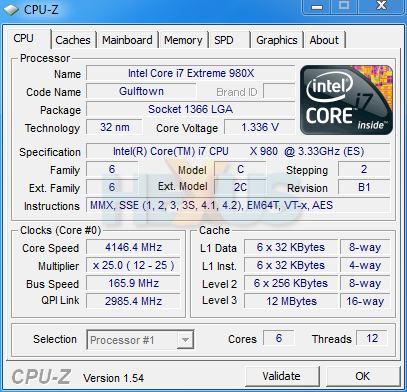 The previous page highlights that any of our six coolers are more than sufficient when running a 980X at stock speeds, but what if you want to go up another notch?
Feeding 1.35V to our chip, we raise the core clock speed to 4.15GHz. That's a bump of almost 25 per cent.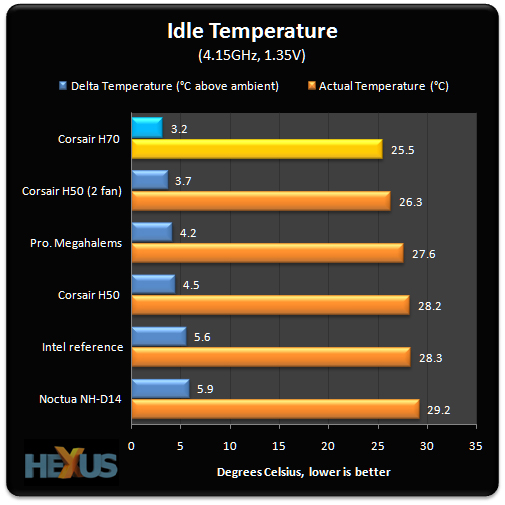 Now idling at 1.9GHz, the chip runs slightly warmer and the gap between coolers becomes better pronounced.
All six are up to the task, but it seems Noctua's NH-D14 is suffering from its vertical mount.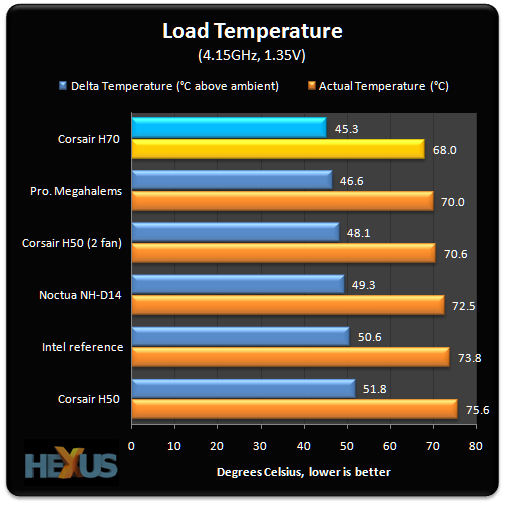 That's interesting. With the CPU overclocked and loaded to full-tilt, the H70 comes out almost 13 per cent ahead of last year's H50. Attaching a second fan to the H50 reduces the gap to around 6 per cent, but the H70 remains ahead of the field.
However, whilst the lead over the standard H50 is impressive, the gap between the H70 and the Prolimatech Megahalems is less so. The impressive air cooler once again manages to keep within reach of Corsair's best liquid solution.
At this speed, with all six cores rocking past the 4GHz mark, power consumption rises to around 335W.