Quite a few 3D-touting laptops have been announced recently and now LG is joining the fun. Though not renowned for its portable computers in this part of the world, the Korean electronics-giant is announcing its first foray into the portable 3D market with the XNote R590 3D.

While not quite as powerful as some other models we've seen lately, the LG is well-equipped nonetheless. Under the hood will be a choice of Intel Core 2010 processors, ranging from a dual-core i3 350M to a quad-core i7 840QM, while a GeForce GT335M 1GB drives the display.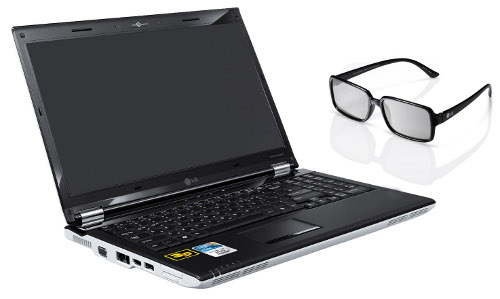 The screen, though, might actually be the most interesting part of this laptop. Most of the 3D get-ups we've come across – especially in terms of laptops – use active-shutter glasses and 120Hz monitors. This laptop's 15.6in, 1366x768px display features no such technology, instead opting for a polarising filter and polarised glasses.

While this isn't compatible with NVIDIA's 3D Vision system for gaming, the laptop will support 3D films when equipped with an optional Blu-ray drive. In addition, LG will ship the notebook with TriDef software, much like Lenovo's Y560d, which can add depth to games, videos and DVDs. As for the glasses, the lack of integrated circuitry should make them nice and lightweight and the manufacturer claims that the passive tech reduces eye-strain compared to active-shutter models. These should all help during those long sessions in 3D.

We have to applaud LG for going a slightly different route with the R590 3D. However, we'll need to see for ourselves whether or not the software solution paired with passive glasses can provide both compelling and consistent results. The laptop will be available sometime this month in Korea, and global availability should follow a few weeks after that. Currently, there is no word on pricing.