NVIDIA's GTX 580 may be the fastest graphics-chip on the market, but it still couldn't dethrone AMD's Radeon HD 5970 as the performance king. Now it looks like the company is gearing up to reclaim that title with a new card powered by a pair of Fermi GPUs.
Chinese site eNet (courtesy of TechPowerUp) has posted pictures of what it's referring to as a GeForce GTX 595. The source claims that the single board will be home to a pair of GF110 GPUs linked by a bridging chip, possibly the NF200. There's also likely to be 3GB of memory, shared evenly between the two graphics processors.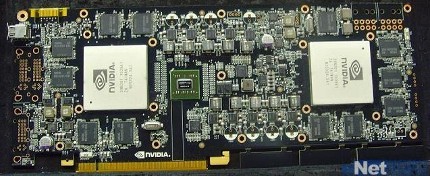 Other details are fairly thin on the ground, although the card does appear to support three DVI outputs, suggesting that it might be able to power a trio of monitors at once. The company's current high-end boards have only been able to drive two simultaneous screens, requiring an SLI configuration in order to run a surround-gaming set-up. Obviously two powerful GPUs would provide more than enough power for three displays - even in 3D - so it makes sense to facilitate it out of the box.
There's also space for two eight-pin PCIe power-connectors, but its no surprise that a card like this would need an awful lot of power.
Unfortunately, there are no details on the GPUs themselves, meaning that we're still in the dark on shader counts and clock speeds. It's even possible that these aren't GF110 chips at all, but more practical GF114s.
Even more unfortunate is the fact that the GTX 595 isn't likely to see the light of day until next year. Rumours are suggesting that the card is pretty much ready to ship, but that NVIDIA is holding it back so that it can go tete-a-tete with AMD's Radeon HD 6990.
Thanks to Rochak Gautam for the tip!